Interesting Links and Fun Facts
Please visit our recommended source for projector parts and manuals.


For information on recycling your light bulb ("lamp") spent mercury-containing lamps go to:
Solutions for the discontinued Q/YYG01-04
GE MSDS for Incandescent Lamps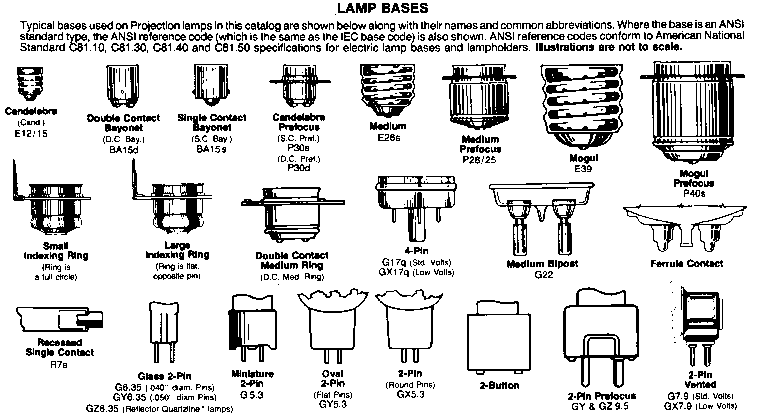 Facts of Light
A Light Year is a measure of distance, not of time.
Since light travels at a rate of about 186,000 miles per second, a light year is about 6 trillion miles.
You can screw an E27 screw base into an E26 socket.
You cannot screw an E26 screw base into an E27 socket.
You would think that the smaller would screw into the larger but it is an issue of thread count and length.
In some cases you can bend the center contact in the lamp socket out and use the E26 in the E27 socket in base down operation.
Please turn of the electricity to the socket before adjusting the tab or you might have an exciting experience.
Mazda: On December 21, 1909, General Electric first used the name Mazda on their lamps. The name was trademarked and assigned the number 77,779 by the United States Patent and Trademarke Office. Today, we associate the name with automobiles, but when it was first used by GE it was chosen to represent the best that the American Lighting industry had to offer at the time, and it was selected due to the fact that Persian mythology gave the name Ahura Mazda to the god of light. General Electric dropped the Mazda trademark in 1945, and ceased licensing the name as well.
Replacementlightbulbs.com
800 Burton Avenue, Suite 107
High Point, NC 27262
336-882-BULB (2852)

Order Line: 800-692-3051
Technical Support Line: 336-882-2854
Fax Line: 336-882-2819

Hours: 8 AM to 4 PM EST Monday through Friday

Sales: Address changes, invoice copies, tracking and delivery confirmation numbers, order status, product availability, payment options, shipping quotes, returns, damage claims
336-882-2852
sales@replacementlightbulbs.com

Technical Support:
Help finding a product not listed, determining the correct lamp for your application, lamp handling and premature lamp failures
336-882-2854
support@replacementlightbulbs.com
International Orders: Large international orders that require special shipping arrangements and quotes
in@replacementlightbulbs.com

If you have compliments, complaints, suggestions, or help with areas not listed above please contact: